There is a touch of history pervading our restaurant…
Idyllically set directly at the Dresdner Heide (Heath) in the König-Albert Park lies one of the oldest restaurants in Dresden. As far back as 1476, the Dresden Augustinian monks received the most gracious approval from the then sovereigns of the land to use water taken from the clear Eisenhornbach stream in the Heath for their monastery in the Neustadt district of the city. For this purpose, a wooden pipe was used, which had its source at today's Fischhaus and was also used for breeding trout.
Since then, the dwelling of the pond warden has been known as the "Fischhaus". Even though the Royal Forestry Office was almost immediately established here, the name has been preserved over the centuries. In 1650, the local forester
was granted a tavern licence in order to improve his extremely modest income. The Fischhaus then quickly established itself as a place to unwind for travellers to and from Dresden and Radeberg.
Henceforth, the Royal City of Dresden experienced rapid growth, which was also reflected in increasing numbers of visitors to the Fischhaus. In the 18th century, guest rooms were established. As the start and destination for walks in the heath and the discovering of the nearby Schotengrund area, the restaurant with its over 400-year history was and remains today the ideal place to make a stopover.
The historical walls and the magnificent art nouveau hall have been restored with astonishing attention to detail and now glean again in new splendour. The heavy beams bear witness to the long history and create an unmistakable ambience.
Enjoy in our restaurant a traditional and regional rural cuisine inspired by modern influences.
We wish you bon appetit!
Menu
In our historical Fischhaus, we serve you seasonal classics, which are diversely enhanced by seasonal aromas. We are proud to be cooperating with regional producers, who share precisely this philosophy and whose methods of working appropriately ensure sustainability and treating nature and the environment with respect.
Starters
A delicate taste
Take a seat and start indulging.
Our tip – A greeting from the south of Sicily: Lime oil & olive bread for € 1.50 per treat
CARAMELISED GOAT'S CHEESE & WALNUTS (G,HW)
served with small leaves and raspberry vinaigrette
€ 13,50
HOMEMADE WILD-HAM CARPACCIO (G)
with cranberry remoulade and marinated king oyster mushrooms
€ 12,90
6 PAN-FRIED PRAWNS & GRILLED TOMATO (AW,B,G)
with garlic dip and olive bread
€ 18,80
PAN-FRIED SCALLOPS & ORANGE (D)
with green pea purée
€ 15,40
SPINACH LEAVES WITH BLOSSOMS FROM OUR GARDEN(A,W,G)
with creamed trout caviar and rocket
€ 9,80
HOUSE-SMOKED BUFFALO MOZZARELLA& MANGO(D)
with rocket, pesto and roasted pine nuts
€ 13,80
SOUPS
Enjoyment from the pot
OUR ELDER SOUP (AW,G)
with crunchy apple and croutons

t

€ 6,90
FRESH GARDEN-HERB SOUP (AW,G)
with truffle butter and parmesan
€ 6,90
HOME-BAKED BREAD VARIATION (AW,G,L,8)
with three kinds of dip

or

finest regional liver sausage
€ 6,90
SLIGHTLY GLAZED PAN-FRIED GOOSE LIVERS (AW,G)
with marinated leaf salad and cherry tomatoes
€ 12,50
MUSTARD EGGS (AW,G,C)
with herb potatoes and estragon-mustard sauce
€ 10,90
CREAM QUARK WITH FRESH GARDEN HERBS (G)
served with parsley potatoes
€ 10,90
JELLIED LOCAL VENISON (AW,G)
with our cranberry remoulade and fried potatoes
€ 12,90
PORK-FILLET MEDALLIONS & AU GRATIN TOMATOES (AW,G)
served with glazed mushrooms and mashed potatoes
€ 15,50
PASTA
For the love of noodles
SEASONAL RAVIOLI (AW,C,G)
in a garden-herb sauce
€ 12,00
TAGLIATELLE & LEEK (AW,C,G)
with chilli, ginger, spinach and coconut milk
€ 13,50
GNOCCHI & CURRY (AW,C,G)
with apple, bell pepper and red onion
€ 13,50
LINGUINE & GIANT PRAWNS (AW,G,B)
in a tomato broth with garlic, chilli and leek
€ 19,80
MAIN COURSES
Meat in its best form
OUR LEMON CHICKEN (AW,G)
with ratatouille, a tomato sauce and rosemary potatoes
€ 18,80
GAME GOULASH (AW,G,I) – "Our guests' favourite dish"
aromatically peppered with cranberries, red cabbage and potato dumplings
€ 16,50
VENISON SCHNITZEL WITH CRUMBED GINGERBREAD (AW,G,J)
and sesame spätzle, served with ginger carrots and cranberry jelly
€ 19,50
MEDIUM RARE BEEF FILLET(G,HM)
served with king oyster mushrooms, Burgundy sauce and mashed potatoes
€ 25,80
SUCKLING PIG SCHNITZEL (AW,G,I,8)
with fried potatoes, lemon and cucumber salad
€ 16,60
BEEF ROULADE (AW,G,L,8)
"normally only on Sundays, but everyday in our restaurant" with apple-flavoured red cabbage and herb potatoes
€ 17,50
Sunday roast:
Every Sunday, we also serve whatever the master butcher has recommended us for the weekend, be it Burgundy roast, pork shoulder from Paula's herb kitchen, chuck roll, juicy beef cheeks or beef shanks. Gently braised or crispy baked.
GET READY TO BE SURPRISED!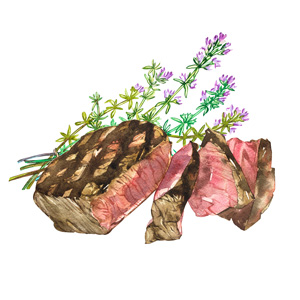 FISH
From the oceans, the lakes, the rivers, and ponds...
PAN-FRIED PIKE-PERCH FILLET (AW,D,G)
with ratatouille and mashed potatoes
€ 19,80
SALMON FILLET & ORANGE (AW,D,G)
served with celeriac & orange purée, oven-baked radish and cucumber salad
€ 21,80
TROUT - CLASSICALLY GRILLED (AW,D,G)
with parsley potatoes, lemon and cucumber salad
€ 18,30
FRESH HOUSE-SMOKED TROUT (AW,D,G)
with mashed potato and a small salad garnish
€ 16,30
Our fresh trout of the day is sourced from the Forellenzucht Kotte trout farm in the local Stolpen region, and prepared for you in our smokers.
CHEESES & DESSERTS
To discover and enjoy
BERRY PARFAIT (C,G)
served with wild-berry compote and egg liqueur
€ 7,50
THE RUSCHELPLINSE (fluffy omelette) (1,AW,C,G)
with warm blueberries and vanilla ice cream
€ 7,20
LIGHT YOGHURT PANNA COTTA (1,AW,C,G)
with orange & ginger ragout and blackberry & lemon sorbet
€ 7,20
WARM MINI CHOCOLATE CAKE (AW,G,C)
with mango sauce and raspberry sorbet
€ 7,40
CHEESE VARIATION FROM REGIONAL DAIRIES (AW,G,C)
with grapes, fig mustard and candied walnuts
€ 12,40
TRAY-BAKED PASTRIES FROM OUR BAKERY (AW,C,G)
€ 3,50
ICE CREAM MENU
ICED LATTE (1,G)
1 scoop of vanilla ice cream, whipped cream
€ 4,30
ICED CHOCOLATE (1,G)
1 scoop of chocolate ice cream, whipped cream
€ 4,30
HEIDEWINZLING ("heath" pipsqueak)(1,G)
1 scoop of vanilla ice cream with blueberries and a touch of whipped cream
€ 2,90
SWEDEN ICE CREAM SUNDAE (1,G)
3 scoops of vanilla ice cream, apple puree, egg liqueur, whipped cream
€ 6,90
"HEATH" ICE CREAM SUNDAE (1,G)
1 scoop of vanilla ice cream, 2 scoops of blueberry ice cream, blueberries, whipped cream
€ 6,60
CHOCOLATE DREAM (1,G)
2 scoops of chocolate ice cream, 1 scoop of vanilla ice cream, chocolate sauce, whipped cream
€ 6,50
MONKS' FAVOURITE (1,G, SP,SW,SH)
1 scoop of hazelnut ice cream, 1 scoop of walnut ice cream, 1 scoop of pistachio ice cream, chocolate sauce, whipped cream
€ 6,70
STRAWBERRY SUNDAE (SEASONAL) (1,G)
2 scoops of strawberry ice cream, 1 scoop of vanilla ice cream, fresh strawberries, strawberry sauce, whipped cream
€ 7,20
BAND OF APES (1,G)
2 scoops of stracciatella ice cream, 1 scoop of chocolate ice cream, banana, chocolate sauce, whipped cream
€ 6,90
CHILDREN'S HARLEQUIN SUNDAE (1,G)
1 scoop of vanilla ice cream, 1 scoop of strawberry ice cream, Smarties, whipped cream
€ 3,50
We welcome your individual wishes – we charge an additional € 2.00 for changes.
SPIRITS OF THE FOREST MENU
For our young guests
ELF DISH (AW,C,G)
Spirelli with tomato sauce and grated cheese
€ 5,50
DWARF TUCKER (G)
Rice pudding with sugar and cinnamon
Rice pudding with blueberries

€ 3,90
€ 4,90
HEATH WITCHES' SNACK (A,C,G)
Crispy grilled sausages with mashed potatoes
€ 5,80
GNOME FEAST (AW,C,G)
Small pork schnitzel with potatoes and carrot sticks
€ 6,80
TROLL FARE (A,C,G,D)
Fish fingers with potato-tomato puree
€ 6,80
GROUSE FODDER (C,G)
Scrambled egg with potatoes
€ 4,80
ROBBERS' DISH
For robbing the grown-ups
€ 0,00
LOBSTER
our delicious take on 'chicness in a shell'
½ a Canadian lobster with fine linguine
served with shellfish sauce, enhanced with salmon, ginger and chilli
€ 29,00
Please book your special treat at least 3 days in advance!